At least on the Internet there is no trace of the alleged suicide pilot of the hapless Germanwings flight, which was crushed yesterday. Who was the copilot of Flight 9525 really? There seems to be a massive cover up/desinfo operation going on. Release the audio file from the voice recorder immediately – for a starter !
There is only one exception to my above sentence: A certain Andreas Lubitz took part in a Montabaurs New Year's Run in 2014. Apart from that I see no hint to this Andreas Lubitz earlier than today.
Lubitz' original facebook page has been taken off the web by now (shortly after his death !!!). It looked like this: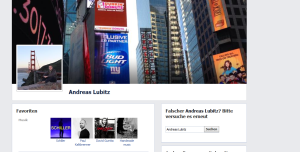 The public wants to know everthing about this man, who allegedly claimed the life of 150 humans ! And for a starter it would be helpful to publish the audio file/transcript of the voice recorder, which have to be at hand anyway !
It would not only be helpful, but it is the usual stuff and good practice !