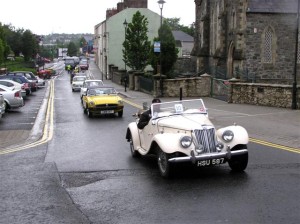 We are in the midst of an unprecedented fall in oil prices, which is represented as a sign of virtually limitless abundance. Nothing could be further from the truth. It is all about saving the petrodollar and the desperate struggle to get (keep) hold of the "last" vast reserves of conventional crude.  The price slump will give way to a supply crisis over the medium or even short term.
At least this is what I expect from my vantage point. It is a layman's point of view, but an informed one as I happen to think. For my reasoning please have a look at what I wrote a month ago.
If I had a supertanker or two, I would try to catch the price at the bottom and sell the stuff in a few months at a multiple of my buying price (as was done in 2008/09).
Unfortunately this is not an option for me – nor for anybody else I know. But you can fill up your gas tank and enjoy the pleasures of individual mobility. It may be your final opportunity to do so.
Foto: Kenneth Allen, Wikimedia Commons