Two weeks ago I got the impression that paper gold kitty has started its journey to the basement, but this cat has its own will and, above all, it hates (correct) predictions of what it will or won't do in the immediate future. This is why it decided to hang around two more weeks at 1100 USD and 1000 Euro per troy ounce. It still has to blur the stark impression, POG's (relatively) sudden downmove from 1175 has caused. But the cat's travel plans stay the same.
It was a quite spectacular move, kitty wants the public to forget: 6 per cent within three weeks.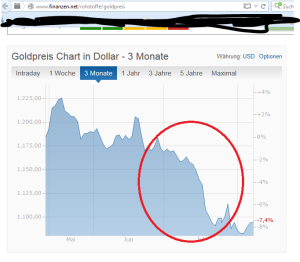 Of course speculators had to be kitty's first concern. It had to deny them, what they want most: risk free "trading" profits. Their shorting might come in useful at some point in time, but not now. Kitty really had to break market expectations of a continously falling POG. It had(s) to reign in this (otherwise useful) profits for nothing crowd – soo sooorry !
And then, of course, there is the thing with grandma's bracelet, I hinted at here.

Kitty wants it bad – and western CB's remaining real gold reserves on top of it. There is a big risk that those ounces stay put, if kitty moves too fast.
Grafik: finanzen.net, AvdK